Fiat Spider emblem hood or trunk Silver laurel wreath $26.50 each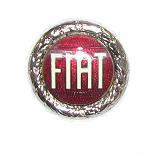 Fiat Spider emblem hood or trunk Silver laurel wreath Will fit Fiat Spider or any other Fiat you want to put it on. Fiat part number 4296412
We are your best source for Classic Fiat parts, to visit our home page, please click here
This is the "cut glass" type that early Spiders had, not the painted on type that mid '70's cars had. will fit 1968-1982 Spiders.
if you do not want to pay online, please call us @ 325-248-6706 to order by phone.
Attention Canadians, and overseas customers.
if you order online, the online payment method cannot calculate overseas shipping. you must contact us to get the correct shipping amount before paying.