! 6-23-97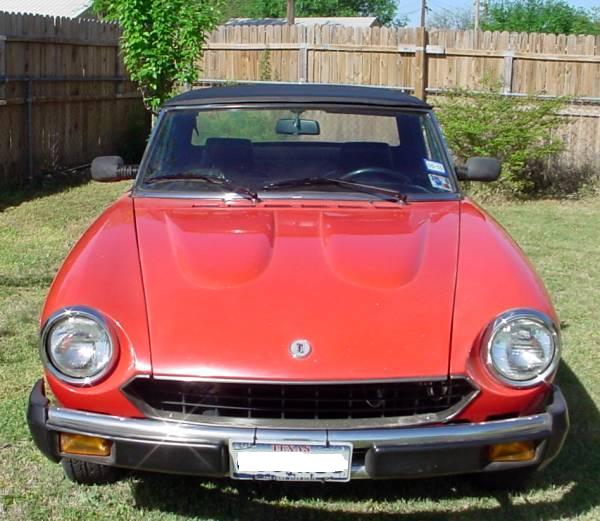 FIAT PARTS WAREHOUSE
Who we are: we are an Importer/Distributor of Fiat and Yugo parts in San Angelo Texas. We import directly from Italy, and International Fiat suppliers. I bought my first Fiat in Cleveland Ohio in 1972. (1969 124 Sports Coupe), in the midwest Fiat 124's rusted really badly, so I moved to Texas. I have worked at Fiat dealers, and Fiat Parts houses since 1972. We know these cars!

Toll free number: (866) 643-6329 For Parts Orders. (325) 716-1941 for Technical Questions and Inquiries on Parts not showing pricing. - 9:00 to 5:00 central time Monday through Friday. If it's busy, please email us @ spider@spiderroadster.com

We have excellent sources for new old stock oem parts & good used parts that are hard to find. If we have a item listed with a price, we have it in stock. If we don't have a listed item, we will move Heaven & Earth to find it for you. Please email us if you are searching for a hard to find part. it takes time to check our warehouses for these types of items, and it is not something we can answer quickly over the phone. Please do not contact us for parts for fiat based tractors or industrial engines. Overseas visitors: do not contact us on non USA models. We only stock parts for the Fiat 124 and other cars built before 1985. no pandas, unos, etc. We do not stock parts for fiat 500, 600, 1200, 1500 etc.
---
This is the Fiat 124 Spider, Spider 2000, Pininfarina Spider Parts Catalog.
Categories:
12. Body
13. Manuals & Publications
How to order/Payment Methods:
The easiest way to order from us is by telephone. We can assist you in determining the correct part, the best shipping method, and get your shipping address, and payment information. We accept all major credit cards. YOU CAN USE YOUR BANK DEBIT CARD IF IT HAS A VISA OR MASTERCARD LOGO.
We accept Visa, Master Card, American Express & Discover. If you send us a Money Order or Certified check, we will wait until clears the Federal Reserve bank before we ship. We will not accept Personal Checks! We do not do C.O.D.!

If your want to order by mail, Please call us for the current prices, and shipping charges before sending your money order, we try to keep prices down, but due to currency fluctuations, etc. it's best to call first.
Our business hours are: 9:00 am to 5:00 pm Central time. We are in West Texas, so please time your phone calls to match our business hours! It is very frustrating to see that you have called us off hours, and we missed you. You may place your order by phone during Business hours, or by E-mail.
If you are a Texas resident, you need to include 8.25% sales tax.
When ordering for either side of the car, the DRIVERS side is always considered the LEFT side. Parts are "each", as stated in the catalog, do not assume that related parts are included.
We work hard to give you the best possible prices. if we list a price on these pages, they are current prices on items we have recently imported, and reflect the changes in the Euro, and our suppliers prices.
OUR SHIPPING POLICY: we only ship with



, they are the only ones we trust.
Attention Overseas Visitors: THIS SITE IS FOR USA MODEL FIAT AUTOMOBILES ONLY! we have not had new fiats in the USA since 1985. Fiat left in 1982. Pininfarina spiders and Bertone X1/9's were sold until 1985, and 1988. So please do not contact us about fiats manufactured after those years. We have no parts for UNOs, Pandas, Barchettas, or any fiat or lancias built after those years. We do not have Fiat tractor or industrial engine parts! The newest fiat based automobile was the Yugo, from 1986-1991. parts for those cars are at www.yugoparts.com. thank you.
per
i nostri clienti
italiani
,
si prega di
contattarci via email
,
e
useremo
google
per tradurre
la tua email
.
Grazie
Fiat
Autoricambi
Fiat
Parts
Warehouse
.